Imagine a land of contrasts… a land of coasts, mountains… One of the most biodiverse of the world… Welcome to Ecuador! Everybody knows Galapagos and Quito, but the country has many other extraordinary places to discover. These are 5 good reasons to choose Ecuador for your next vacation. You will not regret!
ECUADOR HAS A UNIQUE FAUNA AND FLORA
With 46 different ecosystems, Ecuador is one of the most biodiverse countries in the world, and not only in the Galapagos Islands that are World Heritage declared by Unesco, but also on the continent as well.
Galapagos Islands are specially biodiverse and incredible. Literally there is no other place on Earth like these islands. Due to their almost total isolation and the lack of human settlements for a very long time, we can find there some species that cannot be found anywhere else in the world.
ECUADOR, LAND OF CONTRASTS
This country is made up of four regions: Galapagos Islands, the Coast, the Andes and the Amazon. Each region has its own climate, relief, flora and fauna. This means that in just one trip to Ecuador, you can dive with a sea lion, rest on the beach, climb to the top of a snow-covered mountain, and sail in a canoe through a river in the Amazon jungle.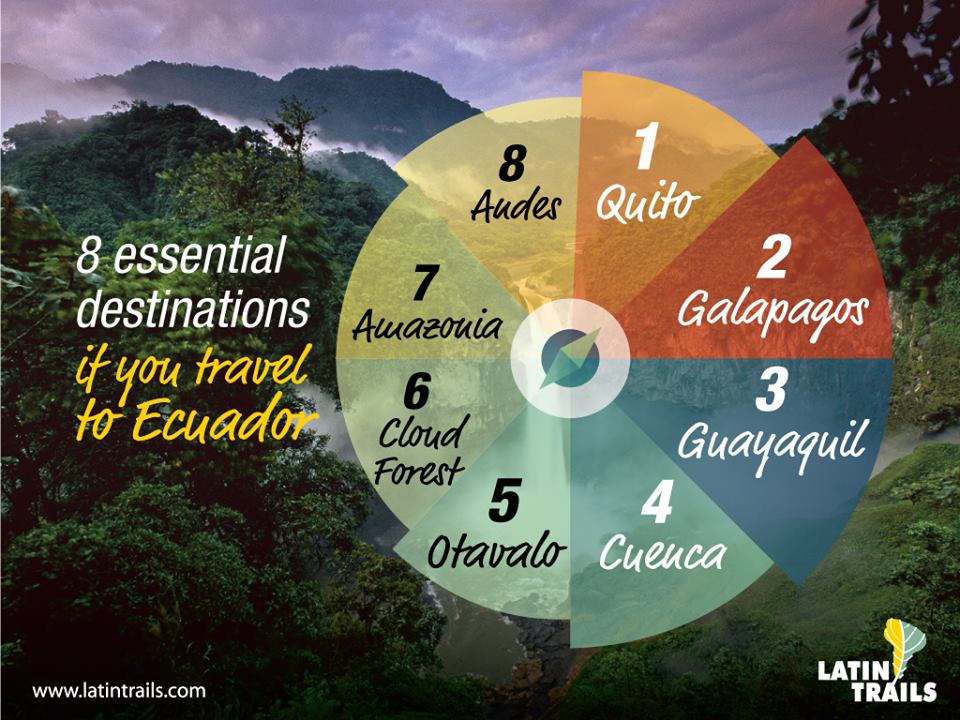 EXTRAORDINARY ART
Ecuador is also an excellent place to experience Art, and explore History through it. During the Colonial period, the QuitoSchool of Art reflected the mixture of cultures that occurred during the colonization, with clear indigenous touches incorporating Catholic religious works. In addition, there are many craft markets located in different cities , where the new and old handicrafts of indigenous communities are exposed.
ECUADOR IS A SMALL COUNTRY
The best perfumes come in small packages, and this is certainly the case of Ecuador. With a similar area than the state of Nevada, it is easy to explore all the diversity of the country in a short time. Larger countries have the main attractions more scattered, and require careful planning to visit everything the traveler wants.
CULTURAL DIVERSITY
Not only the fauna and flora are diverse in Ecuador, it is also very culturally diverse country. Approximately 65% of the population is 'mestiza', that is a mixture of Indians and Spanish, while 25% are indigenous, and the remaining 10% are from other ethnic groups, including people with African ascendants. There are 15 indigenous groups recognized in Ecuador, who speak 11 different languages. These groups vary greatly depending on the geographical region in particular. Each region has its own traditions to discover.